Upcoming EventS & Meetings
SPECIAL GENERAL MEETING
THURSDAY, MARCH 30, 2023  4:00 P.M. on  ZOOM
As per the CORFA Constitution Article VI B. Special Resolutions you are receiving 14 days' notice of the resolutions and the meeting to be held specifically to address these changes.
A special resolution requires a two-thirds (2/3) majority of votes cast. Quorum for the meeting is twenty (20) active members.
Special Resolution: The CORFA Executive moves approval of amendments to Articles IV and VII of the constitutions (click link to view).
 See your calendar invite for more details.
FPSE-HRISC Speakers Tour 2023 Academic Freedom
Monday, March 20th, 2023  |  Zoom   |  1pm PT
RSVP for Online (Zoom) Registration
Although academic freedom is protected under most collective agreements, its use and scope is poorly understood on college and university campuses. This panel will survey a wide variety of examples where academic freedom has been infringed, and explore why faculty are often reluctant to exercise these rights. Discussion will focus on what constitutes academic freedom, its unique history within the academy, and its importance to the advancement of knowledge, creative expression, and the healthy functioning of civil society.
CORFA Annual GENERAL MEETING & Member Recognition
Wednesday, April 26, 2023 | Cranbrook Golf Course | Time: 4:30pm
More details coming soon to your inbox.
CORFA Presents
Black History Month 2023 
FACULTY BINGO – TUESDAY, FEBRUARY 28TH, 2023 @4:30 PM MST AT ROOM KC244, COLLEGE OF THE ROCKIES, CRANBROOK CAMPUS
To register for this event, click here.
---
COMMUNITY PAINT NIGHT – FRIDAY, MARCH 3RD, 2023 @6 PM MST AT THE ART ROOM, COLLEGE OF THE ROCKIES CRANBROOK CAMPUS
To register for this event, click here.
---
SANKOFA SATURDAY (STUDENT PARTY) – SATURDAY, MARCH 11TH, 2023 @8PM MST AT FENWICK & BAKER
To register for this event, click here.
CORFA GENERAL MEETING
Thursday, February 16th, 2023  |  4pm  |  Virtual Meeting via Zoom
More details in your calendar invite including the Zoom link. 
CORFA Member & family Event 
Friday, January 27th  |  5pm  |  Kimberley Nordic Club
A great event for the whole family! There will be cross-country skiing, snow shoeing, a bonfire with hotdogs and smores, games and more! 
Register for the event using the link in the email that was sent to you. 
CORFA General Meeting
Wednesday, November 30th  |  5pm  |  Heritage Inn Cranbrook
More details will be emailed to you.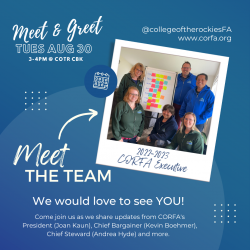 CORFA MEET & GREET
Tuesday, August 30th  |  3-4 pm  |  Tent outside by the cafeteria 
The CORFA Executive would LOVE to see YOU!  Join us as we share updates and enjoy some snacks and refreshments.
Sat Sep 3rd 10:00am – 1:00pm
Rotary Park – Cranbrook
, 
10 Ave S & 1st St S, Cranbrook, BC V1C 2M9, Canada 
map
Please join us at the Cranbrook Farmer's Market on September 3rd to celebrate the Labour Movement! We would love to see you at our booths! We will have free cookies, juice, button making machine and much more!
COMMITTEE OF THE WHOLE MEETING
Sept 12, 13 or 14 (TBD)
It will be about an hour meeting and food will be provided. The purpose of this meeting is to set up how the communication will work with the new CORFA Executive. 
National Day for truth & reconciliation!
September 30, 2022
The day honours the lost children and Survivors of residential schools, their families and communities. Public commemoration of the tragic and painful history and ongoing impacts of residential schools is a vital component of the reconciliation process.
On September 30, Canadians are encouraged to wear orange to raise awareness of the very tragic legacy of residential schools, and to honour the thousands of Survivors.
CORFA GENERAL MEETING
November 2022
Date, time and location to be announced.
November 21 – 25, 2022
Vancouver Convention Centre (East)
We're delighted to be convening in person again, for the first time in four years!
We're looking forward to welcoming delegates from communities and affiliates across BC. You can expect to find more information here as we get closer to November, including a full agenda, so check back often.
We can't wait to see you in Vancouver!