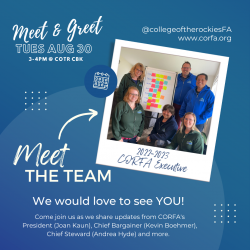 CORFA MEET & GREET
Tuesday, August 30th  |  3-4 pm  |  Tent outside by the cafeteria 
The CORFA Executive would LOVE to see YOU!  Join us as we share updates and enjoy some snacks and refreshments.
Sat Sep 3rd 10:00am – 1:00pm
Rotary Park – Cranbrook
, 
10 Ave S & 1st St S, Cranbrook, BC V1C 2M9, Canada 
map
Please join us at the Cranbrook Farmer's Market on September 3rd to celebrate the Labour Movement! We would love to see you at our booths! We will have free cookies, juice, button making machine and much more!
COMMITTEE OF THE WHOLE MEETING
Sept 12, 13 or 14 (TBD)
It will be about an hour meeting and food will be provided. The purpose of this meeting is to set up how the communication will work with the new CORFA Executive. 
National Day for truth & reconciliation!
September 30, 2022
The day honours the lost children and Survivors of residential schools, their families and communities. Public commemoration of the tragic and painful history and ongoing impacts of residential schools is a vital component of the reconciliation process.
On September 30, Canadians are encouraged to wear orange to raise awareness of the very tragic legacy of residential schools, and to honour the thousands of Survivors.
CORFA GENERAL MEETING
October 2022
Date, time and location to be announced.
November 21 – 25, 2022
Vancouver Convention Centre (East)
We're delighted to be convening in person again, for the first time in four years!
We're looking forward to welcoming delegates from communities and affiliates across BC. You can expect to find more information here as we get closer to November, including a full agenda, so check back often.
We can't wait to see you in Vancouver!